Languages
Site Navigation
RGJ Gourmet Mushrooms
RGJ Power provides fresh, gourmet mushrooms in a city near you....
Read More
Hydroponic Systems

The different types of Hydroponic systems explained
Read More
RGJ Aquaponics
Client Log-In
Hemp Insulation
Find all you need to insulate your home or office using Hemp Insulation - rolls, sheets & stuffing
Click Here
Invest with RGJ Power
RGJ Power offers you many sustainable investment opportunities
Click Here
Customer Service
Get in touch with RGJ Power for all your enquires.
Click Here
A 100% Renewable Resource

Soapnut is the fruit of the tree sapindus, from the family Sapindacea.
This tree is found primarily in India and Nepal.
The tree can reach heights of 25m with a diameter of 1 to 2 m and flowers for at least 70 years.
After ten years the tree has the first fruits.
The trees have been growing in the wild for more than 1000 years.
The fruit is a small fruit with 1-2 cm diameter, yellow ripening brownish containing black seed.
In April & May the tree is adorned with white flowers, and the ripe soapnuts are harvested in October.
The skin of the shells contains 15% saponin which is similar to soap. Saponin is the active cleaning ingredient in Soapnuts, and it has a dermatologically sound lathering and cleansing effect.

Soapnuts is a Pure and Natural Washing Detergent that leaves your Laundry Fresh and Clean.
How to Use
Place Soap Nuts into a reusable cotton sack. Tie it closed. Add the sack to your washing machine and follow clothing manufacturer instructions. Return Soap Nuts to the earth by adding them to your compost! It is that simple!

Warm/Hot Water
Use 2 Soap Nuts in the cotton sack.

Cold Water
Use 4 Soap Nuts and re-use them 2-3 times. OR pre-soak 2 Soap Nuts in the cotton sack in hot water for a few minutes. Add the tea and sack to your cold wash load.

Hand Washables
Soak 2 Soap Nuts in hot water for a few minutes. Add the tea to your cool water basin.
---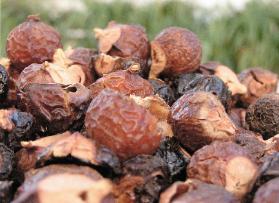 Soapnut (sapindus mukorossi)
Leaves your laundry fresh and clean the Natural Way. Allergy Free & Environment-friendly. Cultivated through sustainable agriculture, Economical & Ecological

500 g + 1 Sack = € On Demand
1 kg + 1 Sack = € On Demand
5 kg = € On Demand
10 kg = € On Demand
20 kg = € On Demand

---
Cotton Wash Sacks
High Quality, cotton sacks for use with soapnuts in washing clothes.

10 = € On Demand
50 = € On Demand
100+ = € On Demand
Customized Logo Printing Available on Request

---
Soapnuts Liquid
Our Soapnut Liquid has many applications than being the best natural all-purpose cleaner and dish washer liquid .
personal hygiene
hair washing
Pet Shampoo
Plant Insecticide

1 liter (Natural & Lavender) = € On Demande
5 liters (Natural & Lavender) = € = On Demand

---
For all inquires, please Contact Us.
All orders are shipped with-in 24 hrs thru FedEx or LaPoste.
---
Payments accepted - PayPal (credit/debit card) & Bank Transfer
Products are shipped from Germany and arrive 4 - 5 days after payment clears.