Site Navigation
Our Products
All of RGJ Powers products & services on one page.

Click Here
The Importants of Ph
PH stands for Potential Hydrogen. All Hydroponic nutrient solutions need to be kept at the proper PH if they are to be used by the plants.
Read More
Hydroponic Accessories
High quality accessoires for your Hydroponic system shipped to your door
Click Here
Growing Mediums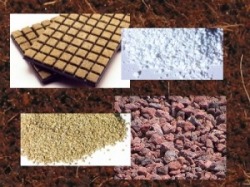 There are many Hydroponic growing mediums that plants will thrive in provided they are used correctly in conjunction with the other aspects of the Hydroponic growing system
Read More
Careers
RGJ Power has opportunities to further your career thru-out the world.
Work for a 21st century company
View Openings
Client Log-In
Customer Service
Contact RGJ Power today for a free quote or answers to your questions
Click Here
Want your hebs and vegatables to grow to their maximum level?
Use our plant growing data to obtain the best results.
Lettuce, tomatoes, cucumbers, peppers, herbs & more
Find the correct Ph level for your hydroponic plants
The perfect lettuce - everytime


Learn all about Plant Growing Data, Ph levels, PPM nutrient strength levels below....
Vegatables, Fruits & Herbs

LETTUCE: Lettuce requires fast growth for best results. It requires a lot of potassium to grow well. Lettuce grows very well with 8-15-36 Hydroponic fertilizer with the Ph adjusted to 6.4 for seedlings and 6.0 for mature plants. A general nutrient PPM can be from 560 - 840 depending on the variety of lettuce being grown. Some varieties of lettuce are nitrogen sensitive and can get leaf tip burn. Calcium and Magnesium sulphate must be added separately to the Hydroponic solution as it is usually not part of the mix. Lettuce does not need a lot of strong light and we grow them very successfully under fluorescent grow lights. Use T5 or T8 bulbs if you use Fluorescent grow lights. T5s are the number one choice.

PEPPERS and HERBS: Both Peppers and herbs also require a Hydroponic nutrient that is very high in potassium to perform well. A good Hydroponic nutrient solution for both of these varieties of plants is 11-11-40. Calcium and Magnesium must be added separately according to the nutrient directions. Adjust the Ph for these plants at 6.2 for seedlings and 5.8 for mature plants. Peppers need some pretty good light but a lot of the herbs do not. You can use T5 fluorescents for most of the herbs.

TOMATOES: Most people think that tomatoes need a lot of nitrogen to grow well. This is not the case with tomatoes. Tomatoes do need a nutrient solution that is high in phosphorous though to produce lots of flowers and then fruit. A very good nutrient solution for them is 4-18-38 adjusted to 6.2 Ph. They grow extremely well with this and you can expect lots of fruit if they are grown correctly. Calcium and Magnesium sulphate needs to be added to the main solution. Tomatoes need a lot of light and the flower clusters need to be shaken in absence of bees or the wind.

CUCUMBERS: Cucumbers take a lot of space to grow but in Hydroponic gardening cucumbers grow like crazy with 8-16-36 Hydroponic fertilizer. You need to add the Calcium and Magnesium sulphate separately like most good vegetable formulas but it is well worth the extra few minutes that it takes to do it. Adjust your Ph to 6.4 to 6.7. We always use the lower number to adjusting Ph because we know it go higher in just a few days or so. Cukes need to be spaced out quite a bit from each other so their big leaves can absorb the light and not shade each other too much. If grown properly the amounts of fruits you can get are just amazing. If you have a greenhouse you want to grow the self pollinating varieties.

STRAWBERRIES: Growing Hydroponic strawberries can be an excellent hobby or a source of income if done on a larger level. Strawberries are fairly small plants and many plants can be grown in a relatively small area. Use a good 10-8-22 Hydroponic fertilizer for strawberries with added Calcium and Magnesium sulphate. Adjust your Ph here at 6.5 to 6.8. Strawberries do not like extreme heat so some areas are not suitable for growing strawberries. Almost everyone enjoys eating strawberries so this can be a good Hydroponic crop to grow for fun or for profit
Grow the PERFECT Lettuce Everytime...

A very good 5 gallon Hydroponic nutrient formula for lettuce is 2 teaspoons of 8-15-36 Hydroponic nutrients with 2 teaspoons of Calcium nitrate and 1 teaspoon of Magnesium sulphate.Mix the 8-15-36 in 5 gallons of water. Then mix the Calcium nitrate in a small cup of warm water until dissolved and add this to the 5 gallons of water and stir. Then mix the Magnesium sulfate in the small cup of warm water in the same way until dissolved and add to the 5 gallons of water and stir. Adjust the Ph to 6.4 for seedling plants and 6.0 for mature plants. Lettuce grows very well in this Hydroponic nutrient formula.
PH Levels & PPM Nutrient Strength Levels

All Hydroponic plants have their ideal PH levels as well as their PPM nutrient strength levels. Both of these are very important for optimum growth. In deciding what to grow compare some of the similar PH and PPM levels of various plants.Sometimes different Hydroponic plants can be grown together with the same Hydroponic nutrient solution tank if their PH and PPM nutrient levels are not too far off from each other. Other things to be taken into consideration before doing this would be plant sizes, intensity of light needed, harvesting methods and some others.
VEGETABLE Ph, CF & PPM Levels
VEGETABLES PH CF PPM

Artichoke 6.5-7.5 8-18 560-1260

Asparagus 6.0-6.8 14-18 980-1260

Beans 6.0 20-40 1400-2800

Beetroot 6.0-6.5 8-50 1260-3500

Broad beans 6.6-6.5 18-22 1260-1540

Broccoli 6.0-6.8 28-35 1960-2450

Brussell sprouts 6.5 25-30 1750-2100

Cabbage 6.5-7.0 25-30 1750-2100

Capsicum 6.0.6.5 18-22 1260-1540

Carrots 6.3 16-20 1120-1400

Cauliflower 6.5-7.0 5-20 1050-1400

Celery 6.5 18-24 1260-1680

Cucumber 5.5 17-25 1190-1750

Eggplant 6.0 25-35 1750-2450

Endive 5.5 20-24 1400-1680

Fodder 6.0 18-20 1260-1400

Garlic 6.0 14-18 980-1260

Leek 6.5-7.0 14-18 980-1260

Lettuce 6.0-7.0 8-12 560-840

Marrow 6.0 18-24 1260-1680

Okra 6.5 20-24 1400-1680

Onions 6.0-6.7 14-18 980-1260

Pak choi 7.0 15-20 1050-1400

Parsnip 6.0 14-18 980-1260

Peas 6.0-7.0 8-18 980-1260

Pepino 6.0-6.5 20-50 1400-3500

Potato 5.0-6.0 20-25 1400-1750

Pumpkin 5.5-7.5 18-24 1260-1680

Radish 6.0-7.0 16-22 840-1540

Spinach 6.0-7.0 18-23 1260-1610

Silverbeet 6.0-7.0 18-23 1260-1610

Sweet corn 6.0 16-24 840-1680

Sweet potato 5.5-6.0 20-25 1400-1750

Taro 5.0-5.5 25-30 1750-2100

Tomato 6.0-6.5 20-50 1400-3500

Turnips 6.0-6.5 18-24 1260-1680

Zucchini 6.0 18-24 1260-1680
Herbs Ph, CF & PPM Levels
HERBS PH CF PPM

Basil 5.5-6.5 10-16 700-1120

Chicory 5.5-6.0 20-24 1400-1600

Chives 6.0-6.5 18-22 1260-1540

Fennel 6.4-6.8 10-14 700-980

Lavender 6.4-6.8 10-14 700-980

Lemon balm 5.5-6.5 10-16 700-1120

Marjoram 6.0 16-20 1120-1400

Mint 5.5-6.0 20-24 1400-1680

Mustard cress 6.0-6.5 12-24 840-1680

Parsley 5.5-6.0 8-18 560-1260

Rosemary 5.5-6.0 10-16 700-1120

Sage 5.5-6.5 10-16 700-1120

Thyme 5.5-7.0 8-16 560-1120

Watercress 6.5-6.8 4-18 280-1260
Languages
Hydroponic Systems
View the different types of Hydroponic systems on offer from RGJ Power....
Read More
Nutrient Solutions
Hydroponic nutrients are the life blood of any Hydroponic system.
Read More
Starting Seedlings
Starting your own seedlings for Hydroponic gardening can be very simple and rewarding experience and will reduce your overall costs
Read More
Light & Nutrient Timers
By using timers for your lights and pumps in your Hydroponic System, you will save time...
Read More
Grow Light Science

In Hydroponic gardening we can use what we know about Photosynthesis to our advantage. Photosynthesis means to....
Read More
Grow Light Selection
There are many choices available for Hydroponic grow lights. A good Hydroponic grow light choice would depend on what you will be growing...
Read More
Plant Selection
In Hydroponic gardening, virtually any types of plants can be grown successfully. Hydroponic growers raise many types of Hydroponic vegetables as well as...
Read More
Plant Growing Data
In Hydroponic gardening, it is important to know what different types of nutrients are best for the different varieties of Hydroponic plants you will be growing...
Read More
Invest with RGJ Power
RGJ Power offers you many sustainable investment opportunities
Click Here