Site Navigation
Our Products
All of RGJ Powers products & services on one page.

Click Here
The Importants of Ph
PH stands for Potential Hydrogen. All Hydroponic nutrient solutions need to be kept at the proper PH if they are to be used by the plants.
Read More
Hydroponic Accessories
High quality accessoires for your Hydroponic system shipped to your door
Click Here
Growing Mediums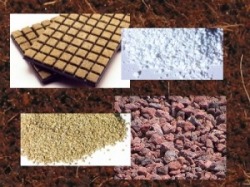 There are many Hydroponic growing mediums that plants will thrive in provided they are used correctly in conjunction with the other aspects of the Hydroponic growing system
Read More
Careers
RGJ Power has opportunities to further your career thru-out the world.
Work for a 21st century company
View Openings
Client Log-In
Customer Service
Contact RGJ Power today for a free quote or answers to your questions
Click Here
RGJ Power provides you with the best list of vegatables, flowers, herbs and ornamental plants to get you started in hydroponic gardening.
Hydroponic Vegatables
Hydroponic Flowers, Herbs and Ornamentals
A Hobby or a Commercial Enterprise?


Learn all about Which are the best plants to grow in your Hydroponic garden below....
Introduction to Hydroponic Plant Selection

In Hydroponic gardening, virtually any types of plants can be grown successfully. Hydroponic growers raise many types of Hydroponic vegetables as well as flowers, herbs, ornamentals and house plants. The main concerns for growing any types of Hydroponic plants are their requirements for their individual Hydroponic nutrient solution strengths as well as their Ph levels and light requirements. Once you learn to give them what they need your Hydroponic plants will thrive and grow faster and healthier than they ever would in conventional soil gardening. Let's look at some of the plants particularly well suited for Hydroponic gardening.
Hydroponic Vegatables

Many vegetable and other food crops are successfully grown in Hydroponic gardening and in many cases these grow much faster and better that in any other growing methods.

Here is a list of vegetable crops that can be hydroponically grown. The list is by no means complete. There are many other plants that are grown successfully using Hydroponic gardening: Artichoke, Asparagus, Beans, Beetroot, Broad beans, Broccoli, Brussels sprouts, Cabbage, Capsicum, Cauliflower, Celery, Chicory, Corn, Cucumber, Endive, Eggplant, Garlic, Leek, Lettuce, Marrow (squash), Melons, Okra, Onions, Pak choi, Parsley, Parsnips, Peas, Potato, pumpkin, Radishes, Rhubarb, Silver beet or Spinach, Sweet potato, Taro, Tomato, Turnip, Watermelon, and others.

HYDROPONIC LETTUCE VARIETIES: These include varieties that do very well in Hydroponic gardening including butterheads, oak leaf, andred leaf and romaine: ELTON, FIDEL, CORTINA, FERRARI, COUNTER, CIREO, LAUREL, and REVOLUTION. Many others also do well in Hydroponic systems.

HYDROPONIC TOMATO VARIETIES: These standard tomato varieties do very well in Hydroponic gardening: MATCH, BLITZ, TRUST, GRACE, ROMANCE, PICOLINO, CELLO, QUEST and LYNX. Many other tomato variets also do well in Hydroponic systems.

HYDROPONIC CUCUMBER VARIETIES: These cucumber varieties including; standard and mini. They do very well in Hydroponic gardening: CORONA, DISCOVER, MUSTANG, MANAR, CAMARO, DOMINICA, and ACCOLADE. Other Cucumber varieties can also do well in a Hydroponic system. Cucumbers and tomatoes take a lot of room to grow. If you have a small growing area you would be better to grow plants like lettuce and herbs.

Each of these plants has its own Hydroponic nutrient requirements as well as Ph and light levels. Some are very close to each other and may be grown together in the same Hydroponic system.
Flowers, Herbs & Ornamentals in Hydroponic Gardening

There are many other fruit crops that also lend themselves well to Hydroponic gardening. Some Hydroponic growers grow these crops very successfully either as a hobby for themselves or as a commercial operation.

Bananas, Black currants, Blueberries, Brambleberries (boysen or logan), paw paws (papayas), Pepinos, Rasberries, Red currants, Strawberries, and others. There are still other plants that can be grown successfully with Hydroponics like many types of flowers.

Orchids are being grown now by many Hydroponic growers because they grow so well as compared to other older style methods. Commercial Hydroponic growers have found many crops that grow excellent for them using Hydroponic gardening methods including flowers, ornamental plants and herbs.

FLOWERS: Alstroemeria, Amaryllis, Anigozanthos, Antirrhinum (snapdragons), Asters, Begonias, cannas, Carnations,Chrysanthemums, Dahlias, Freesia, Gerbera, Gladiolas, Iris, Narcissus, Orchids, Roses, Stocks and others.

ORNAMENTALS: African violets, Aphelandra, Bromeliads, Caladiums, Dieffenbachia, Dracaena, Ficus, Impatiens, Monstera (philodendron), Palms trees and others.

HERBS: Basils, Lemon balm, Marjoram, Mints, Parsley, Rosemary, Sage, Thymes, Grasses and others.

To learn more about specific Hydroponic plant requirements like Ph and PPM see our PLANT GROWING DATA section.
A Hobby or Commercial Entreprise?
When deciding what to grow with Hydroponic gardening you need to ask yourself a few questions first. How much space will be needed? Larger plants take more space so they are not crowded. Grow indoors or outdoors? Almost anything can grow indoors. This is not the case for growing outdoors as there are heat and cold weather to deal with. Some Hydroponic plants also require high light levels and some require lower light levels. A well planned out Hydroponic growing system on paper is a must before going any further to see if it is all going to work.

If you will be Hydroponic growing as a business venture you need to know where your customers are going to be as well as your suppliers for your ongoing supplies. How will your products get from point A to point B? How many hours or employees will be needed? You will need a well thought out plan, again, on paper and all questions answered. It can be a very profitable venture if it is planned well with no surprises. There is virtually no limit to what you can grow in Hydroponic gardening if the proper requirements of the individual plants are learned.

For any technical support for your hydroponic plant selction, please Contact us


Languages
Hydroponic Systems
View the different types of Hydroponic systems on offer from RGJ Power....
Read More
Nutrient Solutions
Hydroponic nutrients are the life blood of any Hydroponic system.
Read More
Starting Seedlings
Starting your own seedlings for Hydroponic gardening can be very simple and rewarding experience and will reduce your overall costs
Read More
Light & Nutrient Timers
By using timers for your lights and pumps in your Hydroponic System, you will save time...
Read More
Grow Light Science

In Hydroponic gardening we can use what we know about Photosynthesis to our advantage. Photosynthesis means to....
Read More
Grow Light Selection
There are many choices available for Hydroponic grow lights. A good Hydroponic grow light choice would depend on what you will be growing...
Read More
Plant Selection
In Hydroponic gardening, virtually any types of plants can be grown successfully. Hydroponic growers raise many types of Hydroponic vegetables as well as...
Read More
Plant Growing Data
In Hydroponic gardening, it is important to know what different types of nutrients are best for the different varieties of Hydroponic plants you will be growing...
Read More
Invest with RGJ Power
RGJ Power offers you many sustainable investment opportunities
Click Here