Site Navigation
Our Products
All of RGJ Powers products & services on one page.

Click Here
The Importants of Ph
PH stands for Potential Hydrogen. All Hydroponic nutrient solutions need to be kept at the proper PH if they are to be used by the plants.
Read More
Hydroponic Accessories
High quality accessoires for your Hydroponic system shipped to your door
Click Here
Growing Mediums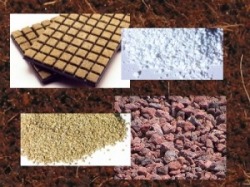 There are many Hydroponic growing mediums that plants will thrive in provided they are used correctly in conjunction with the other aspects of the Hydroponic growing system
Read More
Careers
RGJ Power has opportunities to further your career thru-out the world.
Work for a 21st century company
View Openings
Client Log-In
Customer Service
Contact RGJ Power today for a free quote or answers to your questions
Click Here
RGJ Power offers you detailed descriptions of the types of Seedling Starting options on the market and 2 Hydroponic seed starting growing mixes you can make.
Rockwool
Root Cubes
Plug Trays
2 Free Hydroponic Seed Starting Growing Mixes


Start with our Introduction to Starting Seedlings below....
Introduction to Starting Seedlings
Starting your own seedlings for Hydroponic gardening can be very simple and rewarding. You can grow some very healthy Hydroponic seedlings and by growing your own stock you have a much larger selection of the Hydroponic plants you can grow to maturity as opposed to buying what is available at a garden centre. One way of starting your own Hydroponic plants by seed are by using rockwool cubes. Rockwool is made from fibers of molten rock and then spun and compressed into cubes, blocks, loose material, and slabs. Many Hydroponic growers do not like using rockwool because it can irritate the skin and rockwool fibres should not be breathed in as it is bad for the lungs like insulation. In fact rockwool has been used as a major product in the manufacture of insulation for many years as a substitute for fibreglass.Another property of rockwool In Hydroponics is that it is not very environmental friendly. It is a man made product that does not degrade quickly over time and can remain in the soil indefinitely. In Hydroponic gardening rockwool does do an excellent job of holding water and Hydroponic nutrients for a very long time though making Hydroponic watering times much less frequent. It also holds at least 18% oxygen for the root zone of the Hydroponic plants which helps them grow better. It is a great product for Hydroponic seed starting for its simplistic properties.
Root Cubes

Many Hydroponic gardeners use these root cubes from Oasis, Grodan and some other suppliers for their Hydroponic seed starting. These are great for starting seeds in a Hydroponic operation and they are used by many commercial Hydroponic growers as well. You just place your seeds in the little holes and then place the root cube in water. They then suck up the water like a sponge with a wicking action. They also help with damping off problems in the seeds because they water from the bottom as opposed to top watering. These root cubes come in several sizes for Hydroponics. The most popular size is probably the 1" root cubes for Hydroponic seed starting.When the Hydroponic seedlings are ready to be moved to their final location the cubes can just be snapped off from each other and planted into the Hydroponic system root cube and all. They make Hydroponic transplanting a breeze.
Plug Trays

Many Hydroponic growers use plug trays for their Hydroponic seed starting. Plug trays are great in Hydroponic gardening as you can use them over and over again so they are very cost effective.We use plug trays all the time for Hydroponic growing.

RGJ Power uses the #50 plug trays which have 50 smooth walled conical shaped openings to start 50 cuttings or seeds in for our Hydroponic starter material. These let the Hydroponic seedlings grow a little bigger root spread before tranplanting than the #72 trays which have more openings but are smaller in size. You can just pop the plants out and shake and rinse off the potting mix and transplant right into the Hydroponic system.

When we do our Hydroponic transplanting we gently lift out the Hydroponic seedlings and shake most of the potting medium off of the roots and then gently move them back and forth in a small tub of room temperature chlorine free water until the roots are clean. The Hydroponic seedlings are now ready to transplant into the damped Hydroponic growing medium. You can leave tap water outside in an open container for 2-3 days and the harmful chlorine will be gone.

Make enough chlorine free water like this for your seed starting nutrient solution also and you will grow better seedlings. Use this water with 250 to 300 PPM of the Hydroponic nutrient solution you will be using on your Hydroponic seedlings to really get them off to a healthy start. The Ph should be whatever your particular plant calls for.

Check our Hydroponic PLANT GROWING DATA section for specific Ph and PPM levels for different verities of Hydroponic plants.

Hydroponic Seed Starting Growing Mix

If you are starting your Hydroponic seedlings in plug trays you want to use a sterile fine growing medium appropriate for seed starting. It should be light to let the seedlings push their roots and tops through and it should stay just moist but not wet. It also needs to drain quickly so as not to promote damping off of the seeds.It also needs to come off the roots easily when you rinse them for transplanting into the Hydroponic system. Their are several different seed starting growing mediums available at most garden centres. Some of these bags of seedling mix can get expensive especially if you are going through a lot of it. Save your money for the Hydroponic nutrients you will need.

Make your own formula for a great Hydroponic seed starting growing mix:

SEEDLING MIX FORMULA #1:
In a plastic tub or bucket mix equal amounts of fine peat moss, perlite and vermiculite along with 1/4th teaspoon of lime per gallon of mix to neutralize the acidity of the peat moss. Put this mix into a larger container if necessary so you can really mix it up well.

SEEDLING MIX FORMULA #2:
If you want a similar mix that holds moisture even longer mix 4 parts fine peat moss with 2 parts perlite and 2 parts vermiculite with 1/2 teaspoon of lime per gallon of mix. Put this mix in a larger container if necessary so you can really mix it up well.

Always plant your seeds in moistened soil. You can use a chopstick to poke holes in the centres of the dampened plug tray cells and also to cover the seeds. The seeds are normally planted at about 1/8" deep depending on what you are growing. Lettuce and basil seed is just barely covered with a thin layer. Use the chlorine free, 250 to 300 PPM Hydroponic nutrient solution to water the Hydroponic seedlings as soon as the first true leaves appear after the cotyledons. Most seedlings are ready to transplant into the Hydroponic system in 2 weeks.

We often use a small bubble dome like the one pictured here to start our Hydroponic seedlings in. It keeps the humidity high and helps the germination. The hydroponic seedlings can be placed in the dark at about 70 degrees until they sprout. Remove the dome top when they have sprouted and put under ample light. Use 5500 K or 6500 K fluorescent bulbs or LED grow light for very healthy Hydroponic seedlings.

Check out our Hydroponic PLANT GROWING DATA section for helpful Hydroponic specific plant growing information. See our GROW LIGHT SELECTION also.

Languages
Hydroponic Systems
View the different types of Hydroponic systems on offer from RGJ Power....
Read More
Nutrient Solutions
Hydroponic nutrients are the life blood of any Hydroponic system.
Read More
Starting Seedlings
Starting your own seedlings for Hydroponic gardening can be very simple and rewarding experience and will reduce your overall costs
Read More
Light & Nutrient Timers
By using timers for your lights and pumps in your Hydroponic System, you will save time...
Read More
Grow Light Science

In Hydroponic gardening we can use what we know about Photosynthesis to our advantage. Photosynthesis means to....
Read More
Grow Light Selection
There are many choices available for Hydroponic grow lights. A good Hydroponic grow light choice would depend on what you will be growing...
Read More
Plant Selection
In Hydroponic gardening, virtually any types of plants can be grown successfully. Hydroponic growers raise many types of Hydroponic vegetables as well as...
Read More
Plant Growing Data
In Hydroponic gardening, it is important to know what different types of nutrients are best for the different varieties of Hydroponic plants you will be growing...
Read More
Invest with RGJ Power
RGJ Power offers you many sustainable investment opportunities
Click Here