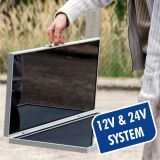 24W Mono Solar Case 12/24V
40W Mono Solar Case 12/24V
100W Mono Solar Case 12/24V
Our Solar Portable Chargers are mobile power generators, designed to charge your devices without tying you to a power outlet, which makes them ideal for traveling and camping.
These Solar panels in suitcase style provide instant energy for various products, radios, mobile phones, Notebooks, etc. Anywhere, Anytime POWER!


Simply and quickly mounted on weekend houses, mobile homes, boats or camping. This Solar Suitcase will supply electrical power for lighting, refrigerators and televisions .
24W Mono Solar Case 24 / 48V

40W Mono Solar Case 24 / 48V

100W Mono Solar Case 24 / 48V

Power Rating
(P. MAX.) 
24 Watt (wp)
40 Watt (wp)
100 Watt (wp)

Voltage at rated power(Vpmx.)
17,5 V (12V System)
35,0 V (24 V System)
17,5 V (12 V System)
35 V (24 V System)
17,5 V (12 V System)
35 V (24 V System)

 Open circuit voltage(VOC)
22 V (12 V System)
44 V (24 V System)

22 V (12 V System)
44 V (24 V System)

22 V (12 V System)
44 V (24 V System)

 Current at rated power(IpMax.)
1,50 A (12 V System)
0,75 A (24 V System)

2,25 A (12 V System)
1,13 A (24 V System)

5,80 A (12 V System)
2,90 A (24 V System)

Short Circuit Current(ISO)  
2,00 A (12 V System)
1,00 A (24 V System)
2,40 A (12 V System)
1,20 A (24 V System)
6,60 A (12 V System)
3,30 A (24 V System)
Size 
920X315X20 mm
760X545X30 mm
905X550X30 mm
Weight 
6 Kg
5.15 Kg
14,50 Kg
Price 
€90,00
€150,00
€375,00